Robomower - It mows, you don't!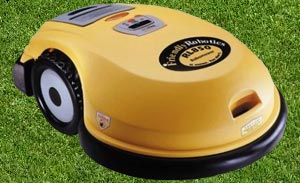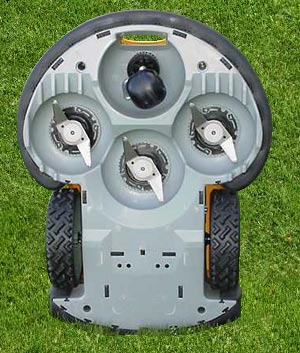 In the history of mankind, innovative men have created machines to do an increasing number of the mundane tasks that plague our lives and steal from us our valuable time. This revolution continues with the creation of the robotic lawn mowing appliance.
The "Guinness Book of World Records" lists the Robomower as the "Best-Selling Robot Lawnmower". There are other choice, but all pail in comparison to the RL850 and it's big brother the RL1000.
The RL-850 will cut your total lawn mowing time to about 5 minutes a week and most of that time is just driving the mower from the garage to the lawn and back. You disconnect the charging cord, lift the manual controller from the top of the mower and use a video game style controller to drive the mower to the area of the lawn you want cut. You then point the mower at the perimeter wire that defines the area to mow. Then you activate the perimeter by pressing one button on the perimeter switch and then you press the GO button on the mower. That's it, the rest is automatic.
The RL850 will automatically mow an area of up to 6500 square feet in a single operation (95% Coverage). Larger areas can be mowed by breaking the yard into up to four separate zones and mowing each one separately.
Copyright 2005 - All Rights Reserved - NMI Enterprises, LLC
11608 W. 127th Terrace, Overland Park, KS 66213-3536
(913) 685-2700